Hot Tub Buyer's Guide: What You Need to Know to Make the Best Choice
A Hot Tub is meant to bring rest and rejuvenation to your home by giving you a place to relax and soothe away the daily pains. And while slipping into to warm water is perfect for de-stressing, choosing the right hot tub for your needs isn't as easy. To help out, we put together a hot tub buying guide to walk you through the key points.
---
Hot Tub Buyer's Guide: What You Need to Know to Make the Best Choice
There several great reasons to take the plunge into hot tub ownership – and there's a type of hot tub ideally suited to each type of owner. Before you start your search, think about how you envision using your hot tub:
Where Will You Put Your Hot Tub?
You're not installing a full-sized swimming pool, which means you have more flexibility when it comes to setting up a hot tub. But you'll still need to carefully consider the best placement for your spa. First, think of an ideal space that will make it easy to get in and out of the spa. You should also make sure that you choose a space that allows for routine maintenance like testing and balancing the water, skimming debris, and repairing or adjusting the control panel.
There are plenty of other considerations. But perhaps the most important question is whether you want an outdoor or indoor hot tub.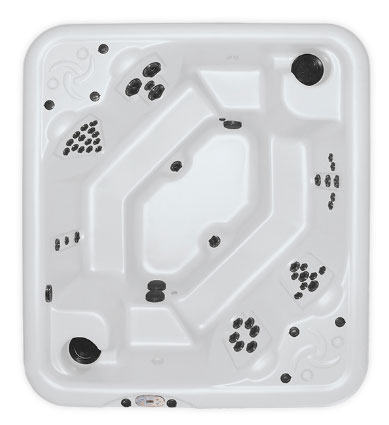 Outdoor Hot Tub Installation
For outdoor hot tub installation, be sure you've covered these points:
Level, stable surface: Even the smallest hot tubs are heavy, and they require flat ground capable of supporting the weight. A concrete pad is probably the best choice for most yards, but be sure there's no slope that drains water onto your deck or in the direction of your back door.
Privacy: If you have nosy neighbors, you'll likely want a way to screen your hot tub from prying eyes. Consider putting your spa in a place where you can use landscaping, hardscape, pergolas, or even portable screens to enjoy a soak in peace.
Safety: Make sure that your hot tub is installed at a safe distance from power lines. You should also check local regulations about pool and spa safety – some municipalities require pool and spa owners to install fences and/or childproof gates to prevent accidental or unwanted use.
Indoor Hot Tub Installation
An indoor hot tub requires a different set of considerations. Installing a hot tub indoors presents several potential challenges, and you'll need to think about some solutions:
Water-resistant flooring: The floor underneath and surrounding your hot tub must be able to withstand standing water. Carpeting is a bad idea, as it allows seepage that can rot the base of the tub. Wood can deteriorate, so if the look of hardwood is appealing, consider water-resistant laminate. Bathers will appreciate non-slip flooring – or at least a matte non-slip finish.
Ventilation and Surfaces: Your hot tub room will produce plenty of steam, so the walls need to be moisture resistant. Good building materials for this include glass, concrete, cedar, or water-resistant drywall like green board. A vapor barrier between the wall and the wall studs will prevent dry rot, and an well placed can help reduce humidity.
Drainage and access to water: You need an easy way to fill your tub, so consider installing a water spigot nearby. Your space also needs sufficient drainage. A floor drain is ideal, which you'll come to appreciate every time you clean or service your tub.
Splash Factor: Every time you step out of the hot tub, up to a gallon of water could come with you – not to mention any rowdy bathers who splash out the sides.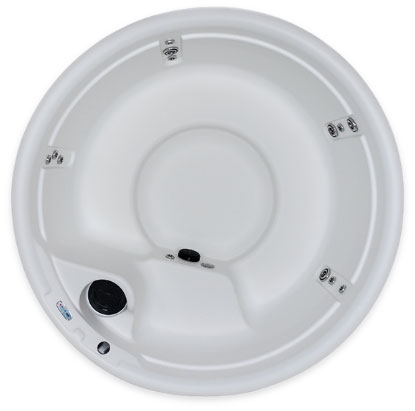 What Hot Tub Add-Ons Are Important to You?
Once you've decided to install a hot tub, ask yourself what types of features and accessories you want for your hot tub.
If your budget allows for add-ons, what about some of these?
Cover lifts
Make it easier to remove the cover and keep it off the ground.
Spa vacs
Multiple vacuum options make it easy to clean your hot tub.
Spa trays
Trays that float or attach to the tub walls offer a place to set drinks and snacks.
Spa umbrellas
Gazebos, pergolas, and umbrellas add shade and privacy.
Spa foot baths
Bathers will always step into your hot tub with clean feet.
Headrests, pillows, cushions, and booster seats
Guests can customize their comfort.
Outdoor TVs
Nano-coating technology helps outdoor TVs withstand the elements.
Outdoor speakers
Disguise wireless speakers as rocks, or add Bluetooth speakers that double as USB ports.
The Accesories Guide →
---
Our accessories guide can help you think about other fun and unique elements to make your spa your own.