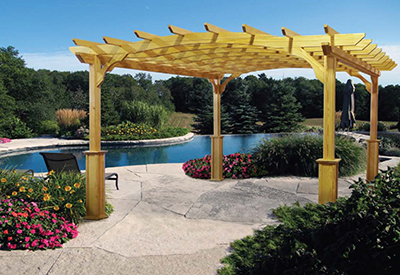 Accenting your spa to create a true relaxation spot!
At the end of a long day, what could be better than to climb into your spa and soak your aches and stresses of the day away? You can make that experience even more enjoyable by the ambiance and view you create surrounding your spa. Lots of homeowners are taking their backyard relaxation spot to a whole new level with creativity, class, and elegance.
Whether your space is big or small, consider adding height and texture, along with practical accessories to make your spa time more enjoyable.
When creating height, there are several ways to approach this. First is with the spa itself. Your spa may sit completely above ground, or you may create the appearance of being partially in-ground by using retaining walls or decking. Depending on the type of spa and layout of your yard, some spas may be completely recessed in the ground. If you consider recessing your spa partially or fully, be sure to first review your warranty and properly plan for access to the service panel. You want to make it easy if a technician ever needs to service a pump or any other equipment inside the service panel. For easy reference, the service panel is always on the same side as the top side control.
Other ways to create height and dimension is to add a pergola, sun shade or umbrella. These options are cost effective ways to add beauty and shade. Using hardscapes to create half walls, pillars, or even a custom outdoor kitchen is another excellent way to add dimension and create a functional and beautiful backyard where your family to unwind and enjoy time together.
When it comes to accessories, the list is endless! I suggest keeping it practical and functional for your family's needs. First consider how you will enter your spa so you can create a safe entry system. You certainly can get basic spa steps made of plastic or wood, or you can "step up" the look with steps that are custom built. There are also several options for handrails that give you something sturdy to grab onto when getting in and out of your spa. A cover lifter makes it easier to open and close the cover. It can also extend the life of the cover
– especially on larger spas since the cover is also large and can be difficult for one person to manage by themselves. If you are in a colder climate where everyone wants to get back into the house as quickly as possible after getting out of their spa, the cover should be quick and easy to use. The cover lifter also keeps your cover off the ground and prevents it from getting bumped around which also helps extend its life.
To create an overall relaxing atmosphere, consider what you hear when you're in your spa. If your home is located in a peaceful area, you may just enjoy the sounds of nature. However, many hear street noise and distracting sounds from the neighborhood. If your backyard is less than peaceful, you may want to give some thought to adding a stereo system to your relaxation space. There are lots of outdoor sound options – some as basic as an outdoor Bluetooth speaker that can just sit near you.
True stress relief and a better night's sleep can be achieved when all your senses are engaged – the hydrotherapy of the jets, an enjoyable view, calming music, and of cores a relaxing scent. Spa fragrances can add that final piece of the relaxation puzzle. When it comes to spa fragrances, be sure to use products designed for spa use that are compatible with the chemicals used that keep your spa clean and are easy on your skin.
If you are planning for a spa, or have had one for years, adding architectural elements and creating a true relaxation spot should be high on your to-do list! Happy Hot Tubbing!
Author
Angela Moss